Establish a balanced nutrition plan with your family
Keep sweets and chips for special times, not as every day foods.
At meals, make half your plate fruits and vegetables. Make the other half healthy proteins and whole grains.
To print tips on healthy eating, click here:
A balanced nutrition plan includes:
Mostly fruits and vegetables: Fresh, frozen or canned!
Whole grains: Oats, whole wheat bread and pasta, brown rice.
Healthy proteins: Beans, nuts, eggs, fish, chicken, turkey, hummus.
Small amounts of healthy oils: Canola, olive, corn.
Small amounts of dairy: Plain milk, yogurt, cheese.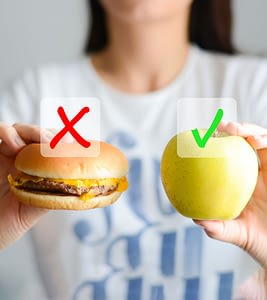 Limiting fast food is good for the whole family
If you eat fast food once a week or more, think how you can cut back to less than once a week.
ChopChop is an online resource full of fun, kid-friendly healthy cooking recipes and ideas. Click the image above to check it out!
Take time to enjoy meals together
At least a few times a week, sit together and eat with all screens turned off.
Watch videos on healthy eating
What kind of foods are the healthiest choices?
How can I shop for healthy foods?
What can I do to create a healthy home?
How can I practice good eating habits?
What are the right portion sizes for different food groups?
Does the size of my plate matter?
Click below for more videos on...
For more about establishing a balanced nutrition plan, here are a few online resources to check out: